Doohan's innovative technology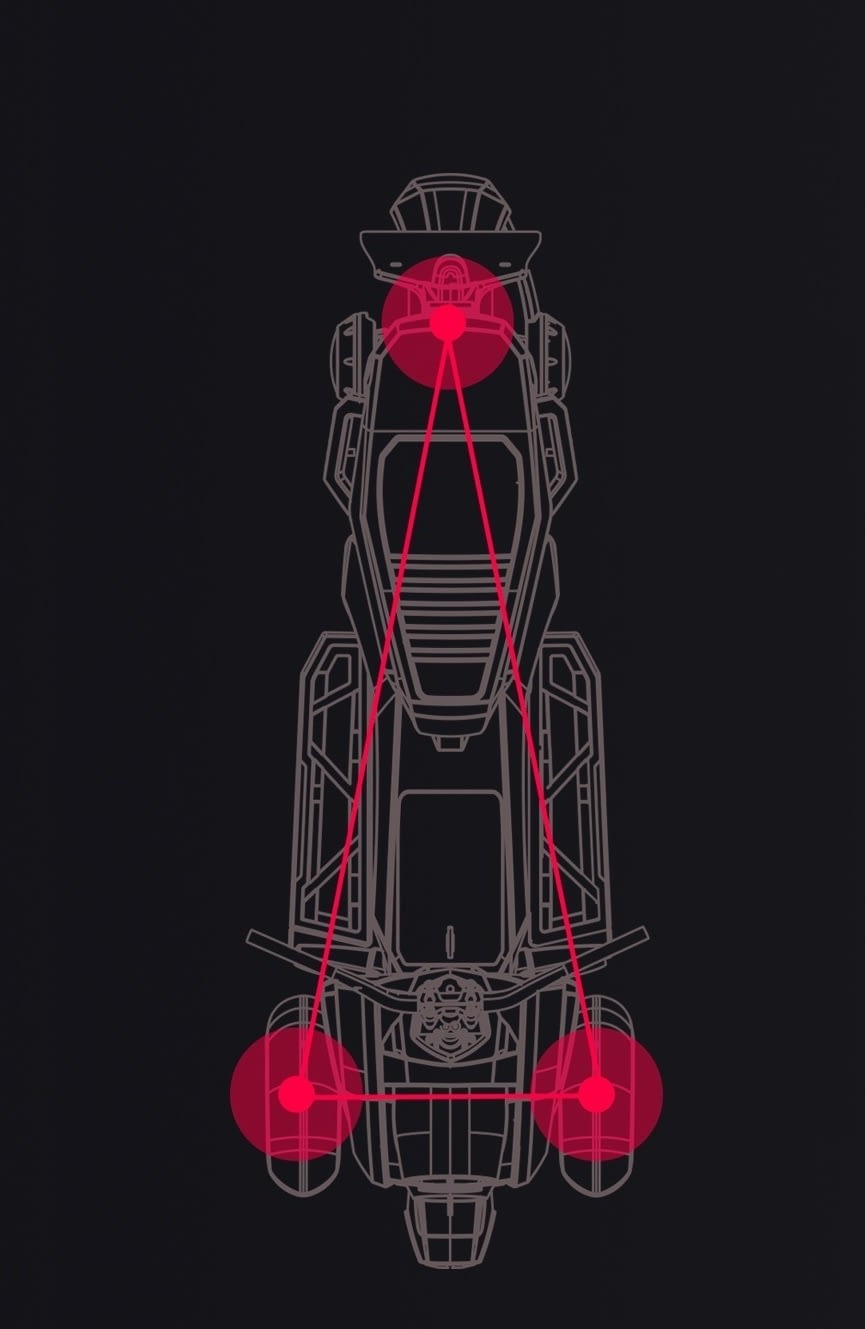 Golden triangle structure
Stable equilibrium and fantastic driving experience.
DDWT is an innovative technology, under exclusive patent from Doohan. The iTank is one of the first smart scooter with Dual-front-wheels, redefining driving safety.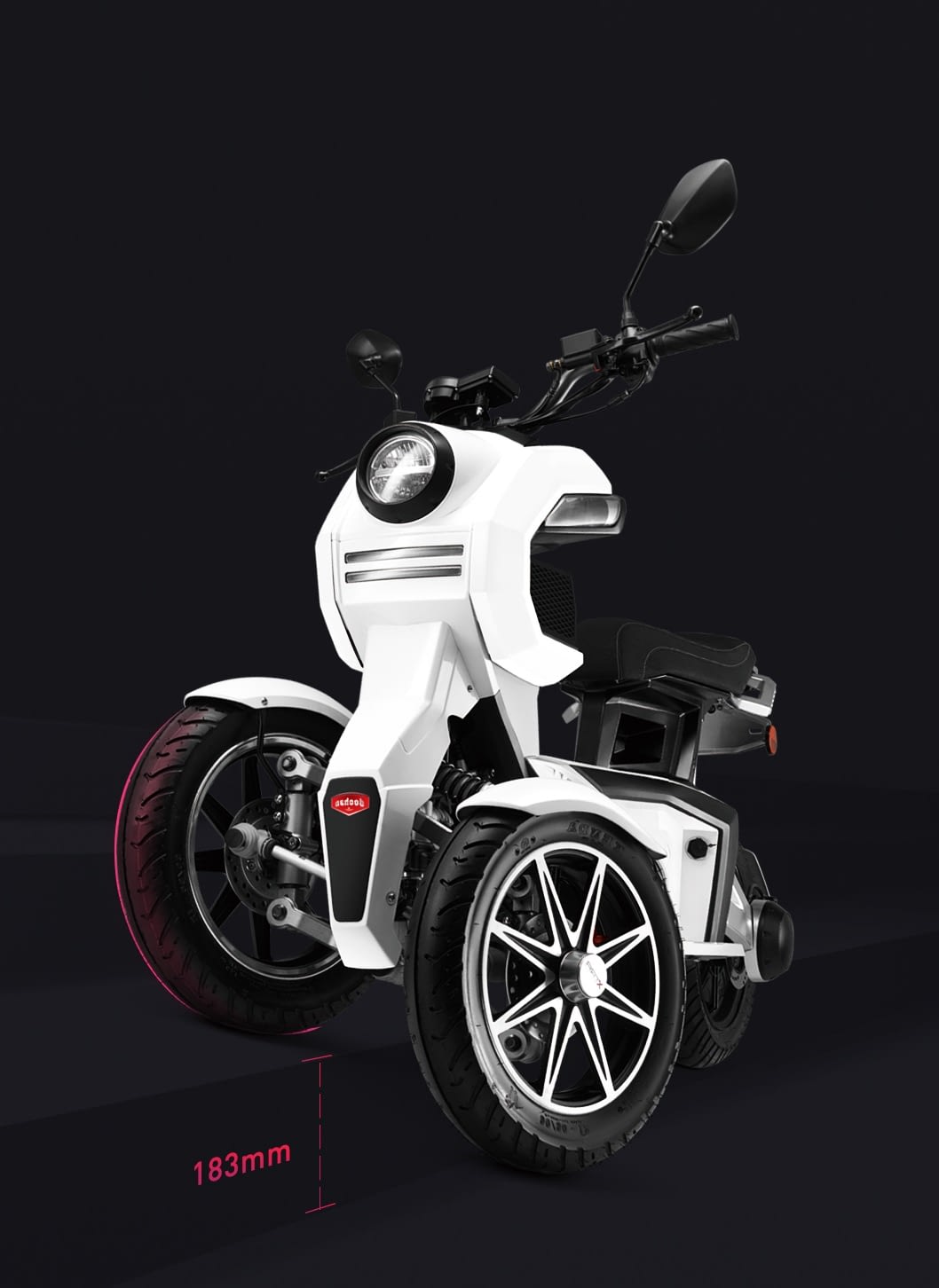 Strong and stable braking system
The iTank is equipped with a triple hydraulic-disc braking system to ensure short range braking distance and with 80mm – 120mm tires, it is excellent for all road conditions.
Powered by Panasonic/LG Chem batteries in excellent collaboration with a customized motor from motor manufacturing experts like Bosch, providing an enhanced driving experience.
Customized motor from Bosch
We customize the high-performance wheel – hub motors from Bosch: 1852W power,120N.M Maximum Torque,15 climbing angle,90% energy conversion rate.
General Specs
iTank
iTank DB45
iTank DB70
Size (LxWxH):
1780mm x 730mm x 1030mm
1780mm x 730mm x 1030mm
1780mm x 730mm x 1030mm
Wheel Base:
1250mm
1250mm
1250mm
Track Front:
460mm
460mm
460mm
Curb Weight:
99kg
108kg
108kg
Rated Voltage
60V
60V
60V
Maximum loading:
160kg
160kg
160kg
Gradeability:
<25% (Loading: 80 kg)
<25% (Loading: 80 kg)
<25% (Loading: 80 kg)
Standard Power Consumption:
1.7kw/h
1.7kw/h
1.7kw/h
Max. Range:
45km(45km/h ver.), 70km(25km/h ver.)
90km(45km/h ver.), 140km(25km/h ver.)
60km(70km/h ver.)
Top Speed:
First Gear:25km/h Second Gear:45km/h
First Gear:25km/h Second Gear:45kmIh
70km/h(max speed)
Braking Distance:
Dry Road:<2m(20km/h) <3.5m (30km/h)
Dry Road:<3.5m(30km/h) <4m (30km/h)
Dry Road:<2m(20km/h) <3.5m (30km/h)
Dry Road:<3.5m(30km/h) <4m (30km/h)
Dry Road:<2m(20km/h) <3.5m (30km/h)
Dry Road:<3.5m(30km/h) <4m (30km/h)
Front Absorber:
Oil-filled
Oil-filled
Oil-filled
Rear Absorber:
Oil-filled
Oil-filled
Oil-filled
Front Tire:
80/100-12 x 2
90/90-12 x 2
90/90-12 x 2
Rear Tire:
120/70.12
120/70-12
120/70-12
Front Brake Model:
160mm Dual piston caliper Disc Brake
160mm Dual piston caliper Disc Brake
160mm Dual piston caliper Disc Brake
Rear Brake Model:
190mm Dual piston caliper Disc Brake
190mm Dual piston caliper Disc Brake
190mm Dual piston caliper Disc Brake
Minimum Ground Clearance:
130mm
130mm
130mm
Seat Height:
750mm
750mm
750mm
Maximum Leaning Angle:
<30°
<30°
<30°
Maximum Steering Angle:
<32.5°
<32.5°
<32.5°
Battery Specs
Motor Specs
Redefining the e-mobility with the iTank