The iLark is a modern electric scooter designed for urban mobility. It is powered by a top-quality Bosch Electric Motor and a Lithium-ion 48V 16AH battery. Thanks to its sophisticated Battery Management System (BMS) the iLark can reach a range of 30 kilometres with one full charge. It is a three-wheeled e-scooter offering optimum stability and handling to the driver on high-speed turns. Specifically, the two front wheels feature the innovative Doohan Dual Wheel Technology (DDWT), an exclusive patent from Doohan, for seamless turning. It is an all-LED electric scooter with 12-inch wheels to facilitate your driving experience. Discover more features below.
The 3-wheeled Doohan vehicles are significantly more stable than conventional 2-wheel scooters. However, they are not suitable for use as a mobility scooter as they are not fully stabilised.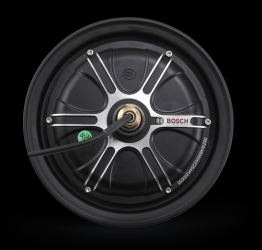 The electric motor is the heart of the electric scooter and what better motor to have for your e-scooter than a Bosch. The high standards and attention to detail in its manufacturing will ensure you will not have to stress about servicing your motor in the future.
The iLark is advanced in every aspect. Hence, its dashboard is a standout feature. The iLark features an LCD instrument panel that displays all the vital metrics you need to be aware of when driving.
The battery of the iLark is one more element that is manufactured with the utmost attention to detail. It is located under the mainframe for better weight distribution and a lower centre of gravity for increased driver safety. The iLark features a removable 48V 16AH Lithium-ion battery that reaches an autonomy of 30km.
The iLark could not be the perfect urban e-scooter if it was not designed to serve the needs of the modern rider. The iLark has a foldable design. You can switch from the folding position to the ready-to-drive position in a matter of seconds. When folded, it is capable of being carried inside public means of transport, fit inside the trunk of the car or stored in a closet or at the office.
Doohan Dual Wheel Technology (DDWT)
The iLark features the Doohan Dual Wheel Technology, or DDWT for short, a cutting-edge technology, that is also exclusively patented by Doohan. This highly sophisticated system ensures that the driver is able to manoeuvre effortlessly. The DDWT system adjusts seamlessly to the road surface. It is a state-of-art steering system that will take your driving experience to the next level.
Fun or Function:
Your Choice!
This video presentation concerns the first model. The tires were upgraded in 2021. These are now tubeless pneumatic tires for improved comfort, handling and safety.
| | |
| --- | --- |
| Motor | 300W |
| Battery | Lithium-ion 48V 16AH |
| Max. Range (km)* | 30 |
| Max. Power | 0.3 kW @ 370 rpm |
| Max. Torque | 7.8 Nm @ 370 rpm |
| Full Charge Time (h) | 5.5 |
| Max. Speed (km/h) | 25 |
| Gradeability | 12° |
| Front / Rear Brake | DISC / DISC |
| Front / Rear Tire | V = 60/80-8 / A = 75/65-8 (tubeless banden) |
| Weight (kg) | 29 |
| OVERALL SIZE (mm) | 1170 x 510 x 1080 |
| Max. Loading (kg) | 100 |
| Wheel Base (mm) | 800 |
| Colors | Black, White, Red, Green, Orange |
| Other Features | Foldable, LED lights, LCD Dashboard, Removable Battery |
*When purchasing an electrically powered vehicle, the buyer must take into account that the specified range is an indication that depends on many factors, including: outside temperature; rider weight and freight; age and condition of the battery(s); tire pressure; state of maintenance of the vehicle; mounted accessories; driving style; set pulling force and maximum speed. The supplier specifies a range that can be achieved under normal circumstances and when applying the legal maximum speed.